Our first guidebook tells the story of the Republic of Venice, the Serenissima, a thousand-year old state that disappeared in 1797.

It is a story of maritime routes, spice trade and naval battles. A journey that takes you to Italy, Slovenia, Croatia, Montenegro, Albania, Greece and Cyprus, that were once all part of the mighty Serenissima.
The book has 320 full-colour pages and dozens of maps, illustrations and photos. Buy it now!
A thousand years of history. Seven countries. One trip.
A new geography?


Our maps show both past and present borders. During the journey, you'll discover riverbeds that changed through time and islands that became part of the mainland.
Retro recipes

We asked chefs, food anthropologists and restaurant owners from different countries to tell us about the gastronomic heritage of the Serenissima. Get ready to explore historical recipes.
Breath-taking landscapes


From the Alps to the Greek islands, from the Venetian lagoon to the Dalmatian hinterland, to medieval towns and artistic cities. Every chapter of the book hides a gem of the Mediterranean.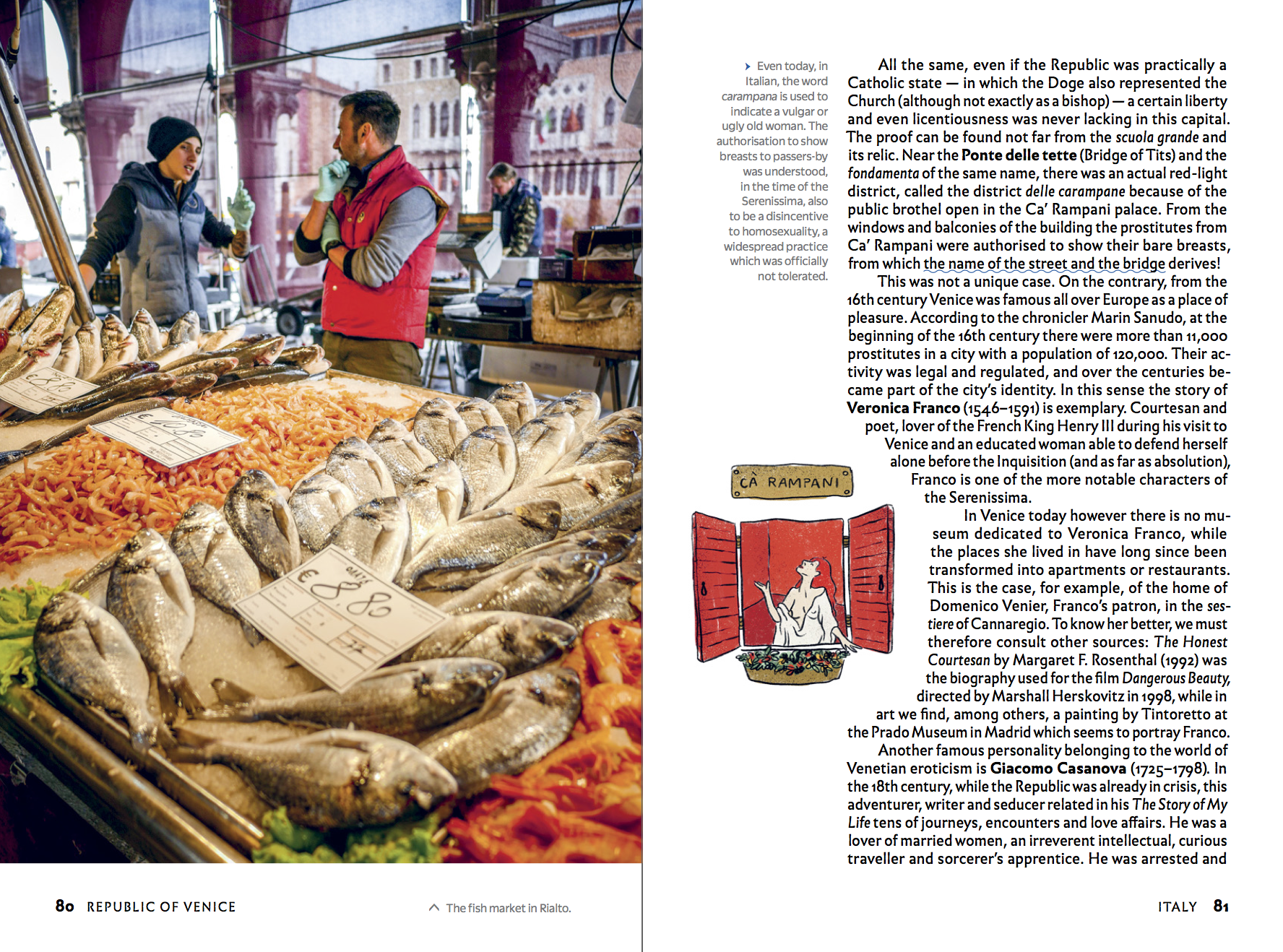 No advertisement


Your journey through time will be guided by beautiful pictures, anecdotes, illustrations and tailor-made maps. But you won't find any ads. Extinguished Countries is a pleasant adventure, without any interruptions.
Our common past is your future destination

This book is the result of more than 400 interviews with locals. They tell us the story of their cities and regions, and share with us recipes, legends and traditions. We have also turned research into timelines, infographics, maps and itineraries that will guide you through these many stories. You'll be walking on today's streets, but at the same time exploring a different reality. Are you ready to discover the Mediterranean in a new way? Then jump on board, we're sailing back to the Republic of Venice!
TREASURE MAPS
Move on foot, by boat or on a horse - we've got you covered. The book features dozens of maps and itineraries that will guide you to the places overlooked by the mainstream guides, and yet full of exciting stories (couple of ghost towns also included!)
A MINE OF INFORMATION
This guide is the result of hundreds of interviews with historians, linguists, chefs... You'll get their best stories and insights as well as extra book, movie and travel tips. We'll share some of those via our newsletter - so
make sure you sign up
(it's free)!
INFOGRAPHICS
Don't worry, this guide is not a history book. So, you're not in for a long, dull read full of battle dates and unpronounceable treaties. Instead, coloured infographics will help you move through time and space, guiding you to find the best location for a dive in the Adriatic Sea and the juiciest platter of scampi around.
A POCKET TIME MACHINE
In 320 pages, you will find all the information you need to travel through 7 countries, more than 40 cities and over 10 centuries of history. Its pocket format makes it a convenient read not only during your travel preparations but also throughout your journey.
Welcome to the Republic of Venice
"Taking down sails, tossing dock lines, finding shelter in a bay before bad weather comes, or setting foot on land and looking up at Gothic windows and Renaissance balconies... Among others, these images capture The Most Serene Republic of Venice — or Serenissima Repubblica di Venezia, as was called this extinguished country at the peak of its splendour. These are stories of the sea, trade, naval battles, art and culture. The task of this guide is to let you relive that past and those landscapes through a modern-day journey. We will go from Italy to Cyprus, from Koper to Shkodër, to the Dalmatian islands and the Venetian hinterland.

We will try to understand what this Republic was, born in the early Middle Ages in the shallows of a lagoon and surviving until 1797, the threshold of a new era. We will explore its legacy, asking today's inhabitants of the former territories of the extinguished country what remains of that period and how it is perceived. Dozens of historians, chefs, artists, booksellers, artisans and other people of diverse profiles and nationalities will answer our questions as we tour a vast and seemingly endless territory."
(From the Introduction to the Republic of Venice)
Paper Boat Stories d.o.o.
Ozaljska ulica 112 – Zagreb
10000 Croatia
OIB 52470513648